Recent news 2023
November 13, 2023
October 14, 2023
September 15, 2023
August 28, 2023
A large box was delivered today...
I had to wait a long time for it, it was already ordered on May 08, 2023 at Thomann...
But actually I've been waiting for it for 2 years and 8 months because I had already ordered (and paid for) one on January 12, 2020 at Bax Music. But that order was unexpectedly canceled by Bax Music on May 24, 2020 because there had been major misunderstandings worldwide about how many devices were going to be built. As a result, many more were sold (via pre-order) than could actually be delivered in the end... and I ended up being very disappointed and was left empty handed...
Until I accidentally found out on Sunday, May 7, 2023 that a 2nd series of these devices was going to be made. First there was the news that they were only intended for the American market and could immediately be ordered from Sweetwater, but also that and Europe would fall by the wayside... Then came the news on Monday, May 8, 2023 that you could order them in Great Britain... And on Monday evening the big news came that you could also order them in Europe at Thomann in Germany!
With a small heart I immediately surfed to the Thomann website... after some searching I found the right page... there was a green button to order... and an orange text with the message 'Availability: available in 6-7 weeks'... I couldn't believe my eyes!
I didn't hesitate for a second, of course ordered one immediately and at 10.16 pm I received the automatic order confirmation... But an automatic order confirmation at Thomann always has to be confirmed again by an employee during office hours, so it was a night long waiting for it to arrive... Until Tuesday morning, May 9, 2023 at 8:30 am, I finally received the redeeming email with the message that the order had been processed and that a device had actually been reserved for me!
That same Tuesday morning I went back to the Thomann website and ... the page had disappeared as if it had never been there ... Rumor has it that they were all sold out in less than 24 hours, but how many pieces exactlly is as far as I know not known (also not how many were available worldwide at the time).
Then of course the anxious waiting started again to see if I would actually receive one... After waiting for the predetermined availability of 6-7 weeks, I suddenly received the message on June 27,2023 that the delivery was postponed to August 28, 2023.. Well, 2 years before that I had also received several emails from Bax Music that kept pushing the delivery time until they finally canceled the order. So I was not at all confident, I would only believe it once it would actually be present in my studio!
Until I received an email from Thomann on August 11, 2023 stating that the device had been shipped that day! Everyone else would probably say a very loud 'Yippee!' shout, but the first thing I called out was literally 2x in a row 'shiiittt! because I was on vacation then and I wouldn't be back until Sunday August 27, 2023, help! It took a lot of effort to get the delivery postponed until today August 28, 2023, but it worked, because... it was delivered neatly today as shown in the photo above!
The regular readers of my news pages have of course known for a long time which device this is about:
New in my synthesizer collection:
ARP 2600 FS
(limited edition)


I'm not going to elaborate too much on the ARP 2600 FS here, because the ARP 2600 is one of the most iconic synthesizers ever built. This is a Full Size limited edition version of the legendary ARP 2600 that was built from 1970 to 1980 in different versions, of which the ARP 2600 FS is a synthesis. Although it is a thoroughly American design by Alan Robert Pearlman (ARP), it is now built entirely by hand at KORG in Japan. But KORG did get the help of David Friend, co-founder of ARP Instruments, to build the most original version of the ARP 2600 possible with hand-selected parts. There is also a real string reverb as was the case with (all?) original versions.
But the ARP 2600 FS has also been adapted to modern times by e.g. the addition of USB, MIDI and XLR outputs + it comes with the ARP 3620 keyboard which also has some extra functions compared to the original version, e.g. aftertouch, an extra LFO, vibrato and an arpeggiator.
And there will also be a transport box that is especially useful for storing the lids of the synthesizer and the keyboard and to serve as a luxury stand for the synthesizer :-) And I do exactly the same:
The keyboard is partly on the transport box, the König & Meyer 11940 score stand provides the necessary stability so that the keyboard does not tilt forward, this works amazingly well and also takes up little or no space (compared to a standard X-shaped keyboard stand, for example). It is a pity that it is just before the ARP logo :-)
If you would like a more extensive technical explanation, I would like to refer you to my post of March 18, 2021 because that post is about the much cheaper behringer 2600 in 19" rack format that I bought at the time because Bax Music had not succeeded in getting me a real ARP 2600 FS to deliver :-)
Btw, I'm going to set up both synthesizers next to each other because they are of course very similar and can be used perfectly together. But the behringer 2600 does have 3 more extensive VCOs than the ARP 2600 FS + there are some small differences here and there, which gives the ARP 2600 FS some extra options.
I really never thought it possible that I could still be the proud owner of a (brand new) ARP 2600 FS without having to pay the extremely high second-hand prices for it... Actually, the moment it was delivered here, it automatically became 50 % worth or even twice as much as the new price, so it's just a win-win situation for me in all respects :-)
Yippee!
July 25, 2023
New to my guitar collection:
a legend from the 70s and 80s...
in a new appearance in honor of its
50th anniversary...
Roland - JC-120 - JAZZ CHORUS-120
(50th Anniversary Limited Edition)
I just checked, if I'm not mistaken I haven't invested in the expansion of my guitar collection since 2016. The main reason is that since then I have not heard or seen a single guitar or bass that aroused my interest in purchasing it. I have always been mainly interested in rather special guitars with special configurations, without going to the exclusive original guitars from the 50s, 60s and 70s that are in my opinion way too expensive anyway (just like old synthesizers are).
In terms of guitar amps I have been working for a long time with 'virtual' guitar amps such as the Line6 Spider IV and V models (+ Helix Native software) and AVID 'Eleven' hardware and software + also use a very extensive range of guitar amp plug-ins in Pro Tools HD. I also have 2 small tube guitar amps (Marshall and Hughes & Kettner), another small Marshall solid-state guitar amp and an Ampeg solid-state bass amp. All these possibilities combined together were always more than enough to achieve very good sound recordings and I have never felt the need to buy more amplifiers.
But since the 1980s I have had a soft spot for the nice clean sound of the old Roland JC-120 Jazz Chorus amps and even more so when the legendary analog chorus and vibrato are used. But for some reason I was under the impression that the Roland JC models hadn't been made for many years and so I never looked for them.
Until half a year ago I received a promotional email from Roland announcing a special '50th Anniversary Limited Edition' of the Roland JC-120 with special cherry wood finish of which only 350 pieces would be made in a one-time production run. You could reserve one at Roland at the time, but I assumed that this would be a very expensive affair, which was partly the case (if I remember correctly, the price was well over 2,000 euros). I didn't pay any further attention to it, although I liked the cherry wood finish much better than the standard black Tolex finish of the original Roland JC amps.
At the beginning of last week, however, I was by chance poking around on music store sites and suddenly I saw a Roland JC-120 '50th Anniversary Limited Edition' being offered at a very attractive price. I then did some more research and to my surprise it turned out that the Roland JC-120 is still made with standard Tolex finish and especially that the '50th Anniversary Limited Edition' was offered cheaper than the standard version! Apparently there weren't that many people who were interested in the initially much more expensive '50th Anniversary Limited Edition' and/or they didn't like the cherry wood finish. I didn't hesitate then and immediately ordered a Roland JC-120 '50th Anniversary Limited Edition'. On the one hand because I always wanted one, but thought they were no longer made and on the other hand because I think it is very beautiful + only 350 were made, which also makes it somewhat exclusive and therefore very suitable for use in a sound recording studio (for live use I would rather have chosen the Tolex finish, I think)
Technically, the Roland JC-120 '50th Anniversary Limited Edition' is identical to the standard version, the differences are purely cosmetic:
cherry wood 'Deep Burgundy Open Pore' finish instead of standard Tolex finish. Roland (as a Japanese company) has mainly done this as an ode to the well-known Japanese cherry trees and their wonderful cherry blossoms
a premium dark gray speaker cloth instead of the standard black/white screened cloth
a hand-engraved aluminum plate on the front with the serial number on it (on my Roland JC-120 '50th Anniversary Limited Edition' this is 181/350)
During my research I also found out that the JC-120 has been on the market since 1975 and is therefore the longest running and continuously produced product in the Roland range. But apparently they can't count very well in Japan because 1975 + 50 years = 2025 and we're only 2023... so actually it's the '48th Anniversary Limited Edition' :-) But apparently the electronic circuits for the JC-120 were already designed in 1973, so the sum would be correct in the end.
Since 1975 there have been many versions of the Roland Jazz Chorus with different speaker configurations and different wattages, but in essence they all differ very little from each other in terms of timbre and possibilities, they are all and remain the typical Roland JC amplifiers. Today, apart from the standard JC-120, there are only 2 smaller brothers available, namely the JC-40 and the JC-22. But there is a catch here... The JC-120 has a built-in analog spring reverb and the original analog chorus and vibrato circuits, while the JC-40 and JC-22 don't have this because the above effects are completely digital there, just so you know... In reviews I read that you can hardly hear the difference, but I prefer the 'real' thing when it comes to electronic equipment from the 70's and '80 goes...
Btw, speaking of the 1970s and 1980s, the JC-120 Jazz Chorus is a solid-state transistor amplifier that was quite unique in that period because it was not an amplifier that works with analog radio tubes like the vast majority of the Fender and Marshall amplifiers of that era. As the name itself suggests, the JC-120 Jazz Chorus was and is often used for jazz and, due to its ultra-clean character, also for funk (especially in the USA). But above all, the JC-120 is very typical of the sound of the new wave and post-punk of the 1970s and 1980s. Notable users included Robert Smith of The Cure, Andy Summers of The Police, and Johnny Marr of The Smiths. But also in heavy metal it was and still is widely used for ultra-clean guitar sounds by, among others, James Hetfield of Metallica and Wes Borland of Limp Bizkit. It is also the case that the Roland JC-120 is also extremely suitable to be used with BOSS effect pedals (BOSS is a division of Roland Corporation) because the JC-120 adds little or no own color and is more than strong enough to reproduce any guitar sound with many effects correctly through its 2 x 12" speakers and 2 x 60 Watt amplifiers.
I have the JC-120 '50th Anniversary Limited Edition' in the studio now and it sounds even better than I imagined! It is true that the amplifier is a bit noisy at higher volumes (JC-120 amplifiers are also known for that), but such sound volumes are not important in a sound recording studio, so that does not bother me at all.
And I also think the cherry wood 'Deep Burgundy Open Pore' finish is very successful and really exudes a certain class that you don't have with the JC-120 with standard black Tolex finish, nice!
I hope to use it mainly for baritone guitars that I am a big fan of, the ultra-clean sound will certainly help with that and then a dash of spring reverb and stereo analog chorus or vibrato, yum!
June 05, 2023
Upgrades in the studio - part 5
OpenCore Legacy Patcher
This time it's not a big investment that I had to wait months for, but free open source software that makes a world of difference for users of older Apple computers like me.
I know about this software for several years and actually have been preparing for this upgrade for over a year now by regularly following user experiences on various pro audio forums. And I've also watched many YouTube tutorial videos of older and recent versions of OpenCore Legacy Patcher + specifically using it on Macs with Pro Tools | HDX cards installed. But only a few weeks ago I started using OpenCore Legacy Patcher myself because I only saw positive reports about the 0.6.6 version of OpenCore Legacy Patcher + this is also the most user-friendly and best working version.
But what is OpenCore Legacy Patcher?
Apple has an obnoxious habit of excluding older Mac computers from macOS upgrades, which means that each Mac model has its specific 'maximum' macOS version. OpenCore Legacy Patcher makes it possible to install more recent, unsupported versions of macOS. This is done by placing a patch on the macOS installer on the EFI Boot partition of the Mac OS Installer (on a USB stick) and, once the macOS has been installed, also placing a patch on the EFI Boot partition of the Startup Disk itself. So every time you start up your Mac, the MacOS is tricked into "thinking" it's a more recent Mac than it actually is. OpenCore Legacy Patcher works on every old Mac since 2006 on the market, in practice these are all Macs from the following models:
MacBook 1.1 (2006)
MacBook Air 1.1 (2008)
MacBook Pro 1.1 (2006)
Mac mini 1.1 (2006)
iMac 4.1 (2006)
Mac Pro 1.1 (2006)
Xserve 1.1 (2006)
For many years I'm using two Mac Pro 5.1 3.33 GHz 6-core Intel Xeon 'Westmere' computers:
one from 2010 in my office with Pro Tools Studio and Logic Pro X installed on it
one from 2012 in the studio with Pro Tools Ultimate (with 3 Pro Tools | HDX cards) and Logic Pro X installed on it
This is a photo of a Mac Pro 5.1 3.33 GHz 6-core Intel Xeon 'Westmere' without the side panel:
The Mac Pro 5.1 (and all versions since the first Mac Pro 1.1) is nicknamed the "cheesegrater" because of the holes in the aluminum casing, but for many professional Mac users in the audio and video world, this is the best computer Apple ever designed. This is because the Mac Pros from model 1.1 to 5.1 are completely modular and can therefore be expanded and upgraded in many ways. For example, there are 4 hard drive bays, 2 CD/DVD drive bays, 6 PCIe slots and even the entire CPU with RAM is mounted on a tray that you can easily slide out and replace. For example, my Mac Pro 5.1 in the studio is equipped with 7 SSDs (of which 2 mounted on a PCIe card and one in the upper empty CD/DVD drive bay), a Metal-compatible Graphics card, PCIe card with extra USB connections + also a 6-slot PCIe Expansion Chassis connected (with the 3 Pro Tools | HDX cards installed).
Because my Mac Pro 5.1 is so extremely expanded and upgraded, I've always tried to keep using my Mac Pro 5.1 as long as possible, but I increasingly bumped into the fact that every Mac has its specific 'maximum' macOS version. For a Mac Pro 5.1, this is macOS Mojave (macOS 10.14) from 2018 if you have a Metal-compatible Graphics card. I have therefore been working with macOS Mojave (macOS 10.14) for 5 years and more and more software packages nowadays require a minimum of macOS Monterey (macOS 12) which has been available since October 2021. So I was gradually falling behind software-wise, although Pro Tools Ultimate was still more or less up-to-date because macOS Mojave (macOS 10.14) was still supported. It was especially with Logic Pro X that I really fell behind, I was stuck on version 10.5.1 while the most recent version is 10.7.8.
And this is where OpenCore Legacy Patcher came to the rescue, as with version 0.6.6 it was very easy to still install macOS Monterey on my two Mac Pro 5.1s, both of which are over 10 years old, great! So I am now completely up-to-date again, with a macOS that is only 2 years old and supports all current DAWs!
Buying a more recent Mac Pro would also have been possible in principle, but those Mac Pros are much less interesting because the Mac Pro 6.1 that was released at the end of 2013 is not modular at all (and is nicknamed the 'trash can' because it fits on a small looks like a shiny black plastic trash can, it's really only 25 cm high):
And the 2019 Mac Pro 7.1 (and the Mac Pro 8.1 that shares the same chassis, launched today at 'Apple World Wide Developers Conference) looks admittedly very impressive:
But it's still a lot less modular than a Mac Pro 5.1. because, for example, you cannot upgrade the RAM and CPU yourself or simply add SSDs yourself, and with the new Mac Pro 8.1 you can no longer even use a PCIe Graphics card of your choice. And that's not to mention the exuberantly high prices for these Mac Pros... and how little difference there really is with the recent Mac mini and Mac Studio models with Apple Silicon M2 chips at much lower prices.
Just a quick note: with OpenCore Legacy Patcher it is also possible to install the most recent version of macOS Ventura (macOS 13) that has been available since October 2022 on a Mac Pro 5.1 and this also appears to work well according to what I read about it. But here too I follow the same procedure as before: only once macOS Ventura (macOS 13) is fully up to date and Open Core Legacy Patcher can patch all current problems specific to macOS Ventura (macOS 13) will I make the switch and in the meantime I will follow the pro audio forums and YouTube tutorial videos closely. In the meantime, OpenCore Legacy Patcher 0.6.7 has also been released with improvements mainly for patching macOS Ventura (macOS 13), but for a Mac Pro 5.1 with macOS Monterey (macOS 12) there is little to no difference.
Today at the Apple World Wide Developers Conference, the new macOS Sonoma (macOS 14) was also presented, which will be launched in October 2023. And according to initial reports, there is a very good chance that an OpenCore Legacy Patcher will also be able to install macOS Sonoma (macOS 14) on older Macs. So with a bit of luck I can continue with my old Mac Pro 5.1 for many years to come...
But for now, only one thing really matters to me:
And I also have a 2012 Mac mini 6.1 with Pro Tools Studio and Logic Pro X on it for recording Roland V-Drums and it also upgraded perfectly to macOS Monterey (macOS 12), so here goes:
In summary, I now have the following DAWs:
In the studio:
Mac Pro 5.1 + macOS Monterey 12.6.6 + Pro Tools Ultimate 2023.3 (with 3 Pro Tools | HDX cards) + Logic Pro X 10.7.8

In the V-Drums Room:
Macmini 6.1 + macOS Monterey 12.6.6 + Pro Tools Studio 2023.3 + Logic Pro X 10.7.8

At my office:
Mac Pro 5.1 + macOS Monterey 12.6.6 + Pro Tools Studio 2023.3 + Logic Pro X 10.7.8
So I'm finally all... caught up again!
May 11, 2023
Upgrades in the studio - deel 4
+ (a bit) new in my synthesizer collection::
waldorf - QUANTUM MK2


Since October 2018 I have a waldorf - QUANTUM digital synthesizer in my synthesizer collection, a dream machine for sound design and experimental sounds. In my post from October 13, 2018 you can read all about that and this is how that synthesizer looks like:
But waldorf didn't sit still and released an MK2 version a few months ago, which was finally delivered yesterday. A waldorf QUANTUM MK2 looks like this:
The actual design has not changed, the main difference is of course the color + some buttons are now metallic for a better visual overview instead of all black buttons. But also technically there are some differences:
first of all the keyboard was upgraded to a FATAR TP/8SK keyboard with polyphonic aftertouch, for me this is a very important upgrade because a keyboard with very high quality polyphonic aftertouch is very rare. I also have an ASM Hydrasynth Deluxe with a keyboard with polyphonic aftertouch, but this is clearly less good. But the price of a Hydrasynth Deluxe is also less than half + ASM makes their keyboards themselves and does not use the professional FATAR keyboards from Italy that you can find in almost all high-end synthesizers
the internal Flash memory for storing samples has been expanded from 4 GB to 59 GB
all teething problems have been removed + there is a more visible and slightly more sensitive touch screen, but that difference is rather small
an MK2 is now also 16-voice polyphony (only with digital filters) instead of standard 8-voice polyphony (with analog and/or digital filters), but a firmware update also made this possible on the original version. In terms of synthesizer engines and such, there is no difference between the original version and the MK2 because they both share the same CPU. So also in the future, the original version will always be able to remain up-to-date if the firmware for the MK2 evolves even further. FYI: this also applies to the waldorf Iridium and the Iridium Keyboard because these are the little brothers of the Quantum that also share the same CPU
There is also 1 small difference with the original version: the MK2 shows the new waldorf logo for the first time:
This was the old logo:
When I saw the new logo for the first time a few months ago I didn't think it was an improvement at first sight, the old logo has much more character and originality in it... The new logo looks like it was created with a free online tool to quickly create soulless company logos. But maybe it also has to do with nostalgia because I have been using a coffee mug with the old logo on it for at least 20 years (I once got it at the Musikmesse in Frankfurt) + I have a Waldorf Blofeld Keyboard for many years, a waldorf STVC and of course also the original Quantum which of course all carry the old logo.
But... now that I have the Quantum MK2 in my possession I actually like the logo with that orange wave and white letters on a dark blue background, the old logo wouldn't have been in place I think...
FYI: my original Quantum is for sale on tweedehands.be, this could be a great opportunity because it is in perfect condition...
What a strange picture... the screen is active... and all the LEDs are lit... without being plugged in and the power switch is off...
Strong men there at Waldorf Music in Germany :-)
March 31, 2023
Upgrades in the studio - part 3

ROLI - Seaboard RISE 2 - MIDI Controller


This MIDI controller was also ordered some time ago and was finally delivered a few days ago. I've been looking forward to it for a long time as I'm a big fan of the Seaboard RISE as ROLI has in my opinion the best MPE (MIDI Polyphonic Expression) technology currently available (or at least for keyboard players and pianists, because there are also MPE controllers that are mainly aimed at guitarists and therefore use a fretboard layout instead of a keyboard layout)
I had to pre-order it (and pay for it) directly from ROLI in February because this is the only way you can buy a ROLI Seaboard RISE 2 nowadays. ROLI therefore only sells directly to the end consumer and no longer works with dealers and music stores. And once ordered, it is still 1 or even 2 months waiting for delivery anyway, because ROLI only has them manufactured when a batch is completely sold out in advance.
I have a ROLI Seaboard RISE 49 since 2017 and a few months ago I also bought 2 ROLI Seaboard Blocks to use outside the studio, you can read much more about this in my posts from August 22, 2017, November 09, 2017 and December 01, 2022.
A ROLI Seaboard RISE 49 (the number 49 stands for the number of keys/keywaves because there is also a RISE 25) and a ROLI Seaboard RISE 2 (the number 2 stands for the new model no. 2) do not differ so much from each other at first sight:
It's the same aluminum chassis, the RISE 49 is painted black with paint that's fairly easy to damage (although my RISE 49 is still pristine), the new RISE 2 is anodized aluminum with a gray-blue color that's much more impact resistant + the lighter color also ensures that you can see it better in the dark.
The internal sensor technology has also been modernized so that a RISE 2 is even more sensitive to touch than a RISE 49, so you can play it a little softer and with even more nuance. But the biggest difference between the two controllers is that the RISE 2 has newly designed silicon keywaves. They are slightly wider and flatter in shape, but it is mainly a small ridge in the middle of each keywave that makes the big difference.
These are the keywaves of a ROLI Seaboard RISE 49, the white stripes are printed with white paint and therefore not tangible with your fingertips:
These are the keywaves of the new ROLI Seaboard RISE 2, the Keywaves2, here you can clearly see that the white and black ridges are embossed on top of all keywaves so that you can just feel them very clearly with your fingertips:
Because of those ridges you feel much better where the middle of a keywave is with your fingers, making it easier to play the right pitch. With the RISE 49 you generally have to practice intensively for a while before you automatically hit the middle of a keywave and therefore do not play out of tune. The new RISE 2 makes it easier for people without experience playing on a Seaboard RISE to learn how to play one. You can also clearly see in the photo above that you can now also slide up between the white keywaves more easily, with the keywaves on the RISE 49 this is just that little bit less.
In summary, the differences between the two controllers may be small at first sight, but in practice the difference is greater than expected because the playing comfort has clearly improved, especially for those who have little or no experience with it.
In the meantime I have already been able to try out the ROLI Seaboard RISE 2 and the new keywaves are indeed easier to play + switching between an old RISE 49 and the new RISE 2 also gives few problems. But that probably has to do with the fact that I've been playing on a RISE 49 for a long time, which has created a form of muscle memory.
In any case, I already know that I will enjoy this beautiful MIDI keyboard controller with the best MPE technology currently available, I am and will remain a very big fan!
And yes, the picture below is mine :-)
March 11, 2023
Upgrades in the studio - part 2

Genelec - 8341A - SAM Studio Monitor (x2)


I also ordered these speakers a long time ago, but again due to the worldwide shortage of computer chips, many models of the Genelec 'The Ones' were also not available, but... I finally received these too!
Whether this is really an upgrade can be disputed, because they replace 2 Genelec 8351A monitors... The Genelec 8351A was the first model SAM Studio Monitor in the 'The Ones' range from 2014. Three years later the smaller 8331A and 8341A came with improved technology, newly designed drivers and more DSP processing power.
In 2018 I bought:
- 5 x 8331A SAM Studio Monitor
- 2 x 7360A SAM Subwoofer
- 4 x 8351A SAM Studio Monitor
- and also 2 x 8320A SAM Studio Monitor (but these have nothing to do with this post)
The 5 x 8331A with the 2 x 7360A subwoofer became my 5.1 surround setup and 2.1 setup, these are set up at ear height while you're seated. The problem, however, was that if you stood up, the sound image was partially lost because the 8331As were set up too low. I solved this by placing a much larger 8351A above the left and right 8331A. If I then listened upright I had a full sound image again + due to the much greater power of the 8351A's (together with the 7360A Subwoofers) I was also able to listen at high volume for short periods of time if I wished to do so.
But... it didn't sound the same, the 8351A sounds fundamentally different from an 8331A (I'm not sure if this is better or worse, it's just 'different')... This has little to do with the difference in size, but with the difference in technology. Because the 8331A and the 8431A sound identical as they share the same technology, this is very clear in all kinds of professional online reviews. This fact also helped determine to go for 5 x 8331As in 2018 and not for the much more expensive 8341As because they sound the same after all and 8331As are strong enough for my Control Room according to Genelec's technical information (which is also correct, by the way, the protection circuits in my 8331As have never been activated).
Also important: when I bought the 4 x 8351As in 2018, the improved 8351B (with the technology of the 8331A and 8341A) came out a few weeks or months later and production of the 8351A was discontinued. It goes without saying that I didn't find this funny, because suddenly the value of 8351A's halved and I would have to pay the same amount again to replace the 8351A's with the new 8351B. I did not do this and was also very disappointed in Genelec's strategy of not offering a trade-in program for buyers like me who had bought one or more 8351As 3 or 6 months before the launch of the 8351B...
But of course the problem of the difference in sound image between listening sitting down and standing up remained because I still had the 8351As. After a while I started to consider replacing the two 8351A's above the 8331A's with the 8351B (I don't use the 2 other 8351A's for critical listening because they are aimed at the back of the Control Room, not at the mixing position). However, after doing some online research and reading all kinds of professional online reviews of the 8351B, it turned out that the 8351B... also sounds different than the 8331A and the 8341A! (again I'm not sure if this is better or worse, it's just 'different') This is because the 8351B in turn also uses newer technology than the 8331A and 8341A, namely newly designed drivers and amplifiers (but has the same DSP processing power as the 8331A and 8341A), well...
So... if I want to listen to the same sound image between listening sitting down and standing up, there are only 2 options: replace the 8351As with 8331As or 8341As, because only these 2 models share the same technology and the same drivers. And since I want to be able to listen at high volume for short periods of time if I wished to do so, then the 8341A is the most logical choice...
That is why I state at the beginning of this post that it is debatable whether replacing 8351As with 8341As is really an upgrade... Because you could consider this a downgrade to a smaller model or missing an upgrade to a better and more recent model...
Btw, in the meantime I have replaced the 8351A's with the 8341A's and I have recalibrated all SAM monitors with the GLM 4.3 software and as it turns out:... there is no longer a difference between listening sitting down and standing up, so either it's a downgrade or a miss of an upgrade... at least for me it's a big upgrade and...
March 06, 2023 (updated on March 20, 2023)
Upgrades in the studio - part 1

iConnectivity - mioXL - MIDI Interface (x4)


They were ordered a long time ago, but due to the worldwide shortage of computer chips, the iConnecticity mioXL was not available, but... today I finally received them!
In my post from October 26, 2017 you can read how I came to purchase my 2 original iConnecticity mio10s and this was mainly due to persistent USB problems. After a while I bought a 3rd mio10 because I needed more MIDI connections and this worked fine at first. But over time, I started experiencing problems with USB again after trying to connect a few more USB devices to my Mac Pro.
iConnecticity had already come out with the successor to the mio10, the mio XL. The main difference between the two MIDI interfaces is that the mio10 was designed to be connected to a computer via USB and the mioXL via RTP-MIDI via Ethernet with a standard UTP cable. This means that the mioXL no longer needs a connection via USB, with the result that the USB buses of my Mac Pro are completely relieved for sending and receiving all MIDI data. The original mio10 also had RTP-MIDI on board, but only 4 buses, the mioXL, however, works entirely via RTP-MIDI.
I had 3 mio10's in the Control Room but none in the V-Drums Room because the distance was too long for USB cables (especially in combination with the 3 mio10's that were also connected via USB). But since RTP-MIDI can easily run over a 100 m long UTP cable, the distance from the V-Drums Room to the engine room is no longer a problem and I immediately bought 4 MioXL's.
My old, faithful Mac Pro 5.1 also has 2 separate Ethernet ports, one is for the connection to the studio network (LAN) + internet, the other Ethernet port is only used for the AVID S3 Control Surface for operating Pro Tools. There is also an 8-port Ethernet switch in between, so there are still more than enough Ethernet ports available and therefore perfectly suitable for the 4 mioXL MIDI interfaces. And this way RTP-MIDI remains independent of the studio network, something that in itself is not necessary because RTP-MIDI uses very little bandwidth on a network (but I prefer to keep RTP-MIDI + the AVID S3 Control Surface and my LAN neatly separated ).
I'm not going to explain all the differences between the mio10 and the mioXL here, because the only thing that matters is the fact that my entire MIDI setup will work via RTP-MIDI and that's a very big step forward because then I'm finally definitively freed from all that USB stuff.
But... in that post of October 26, 2017 you can also read that it took 2 months to get the original 2 mio10s working because at that time customer support was very slow at iConnectivity, there was virtually no information available online was + the iConfig software to program the mio10 was not yet ready (and was especially confusing). But in the meantime the support department of iConnectivity has been expanded considerably and you now get a quick answer to your questions + the iConfig software was replaced by the 'Auracle for X-Series' software that is much more user-friendly + there are now also a lot of Youtube movies available that step explain step by step how to configure a mioXL. So I'm hopeful that I'll get everything up and running soon...
Addition on March 20, 2023:
In the meantime I had the opportunity to replace the old mio10s with the new mioXLs, something that was fairly easy thanks to my meticulously numbered cabling. Then I had to program the entire TRP-MIDI network with the 'Auracle for X-Series' software... and against all odds that was done in about 2-3 hours! Of courseIn the beginning it was a bit of searching, but once I understood the principle everything went very smoothly.
I can therefore only say that I am very satisfied with the mioXLs and especially with the 'Auracle for X-Series' software, because everything is logical and easy to set up. And I am also very surprised at how well and stable the RTP-MIDI network performs, what a difference with USB! It's like stepping into the 2nd decade of the 21st century... which is also true of course, because MIDI was invented in 1983, USB in 1996 and the mioXL with 22 RTP-MIDI ports only exists since 2021 (but the RTP-MIDI protocol itself has actually been around on Apple computers since 2005 with the arrival of MAC OS 10.4).
But of course it is the iConnectivity mioXL that deserves all the praise here because this is the first MIDI interface in the world that has 22 RTP-MIDI ports, making USB completely unnecessary. The mio10 only had 4 RTP-MIDI ports and was therefore absolutely useless via RTP-MIDI for large MIDI studios like mine... and with three mio10's I bumped into the limits of what is technically possible via USB... I'm very happy to finally get rid of it...
March 03, 2023
New in my synthesizer collection:

KORG - miniKORG 700FS
(limited edition)


KORG has released several limited edition FS (Full Size) versions of old legendary synthesizers from the 1970s over the years.
First there was the ARP 2600FS from 1971 to 1975 in 2020:
I had officially bought this synthesizer and also paid in full when ordering, but in the end it was never delivered because it was sold out. There were worldwide misunderstandings about how many aircraft were going to be built, so that more were sold (via pre-order) than could actually be delivered.
The KORG MS-20 FS from 1978 to 1983 followed in 2021:
Originally the KORG MS-20 was black as shown on the top right of the picture, but the KORG MS-20 FS also came in white, blue and green.
I didn't buy this one because I already have a KORG MS-20 Kit that came out as a full size kit a few years before:
And in 2022 the KORG miniKORG 700FS from 1974 followed, the (for now?) last FS version of old, legendary synthesizers:
All 3 FS versions were recreated as authentically as possible, including a large part of it by hand, but at the same time these synthesizers were also equipped with modern gadgets such as MIDI and USB connections and for the miniKORG 700FS also 14 memory locations, an arpeggiator, a string reverb and a keyboard with monophonic aftertouch.
The history of the miniKORG 700FS goes back to 1973 when the first version came out, the miniKORG 700:
This monophonic synthesizer had only 1 oscillator (VCO) and was designed by the Japanese Fumio Mieda who already worked for KORG at the time. The miniKORG 700 was the first synthesizer ever to be designed and built in Japan and was intended to be an inexpensive, simple synthesizer that would be affordable for everyone. This is in contrast to the very expensive American synthesizers from the 1970s from Moog, Sequential Circuits, Oberheim and ARP (the name ARP only recently became the property of KORG).
In 1974 the miniKORG 700 was succeeded by the miniKORG 700S:
This had 2 oscillators, which of course greatly expanded the sound possibilities, it also has some effects such as 3 different ring modulators. The controls for these new functions were not added to the front, but were added to the top left to replace the wooden panel that was present on the 700.
With the new miniKORG 700FS, a joystick has been added to that panel: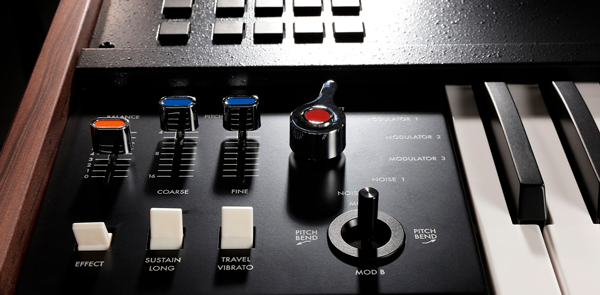 But... the original designer Fumio Mieda had already included a joystick in his 1974 design for the 700S, but it was eventually omitted to keep the price down. So adding a joystick to the 700FS is actually finally being able to carry out the original design from 1974. FYI: Fumio Mieda is still alive, still working for KORG and was team leader of a team of young synthesizer designers who designed the 700FS. They could therefore always contact the original designer, to make sure the sound color of the 700FS is 99% identical to an original 700S. As I mentioned earlier, an authentic string reverb was also added to the original design because this type of reverb is so typical of the synthesizer sound of the 1970s and 1980s. On the photo above you can also see the 10 added push buttons at the very top for selecting the 14 memory locations and to operate the arpeggiator + these buttons also serve to change all kinds of internal settings (e.g. all MIDI settings). Speaking of MIDI: to my great surprise all knobs and sliders output real time MIDI data! So anything you do on the 700FS can be recorded into a DAW as MIDI data and reproduced...
The miniKORG 700FS has been on the market for less than a year now and there are only a limited number of copies of this 'limited edition' left on the market (so no major shortages this time as was the case with the ARP 2600 FS). It goes without saying that this type of synthesizer is only interesting for a limited number, mostly older people (especially for collectors), because for a fraction of its price you can buy a modern synthesizer with a multitude of possibilities. As a result, the 700FS has also dropped in price recently and it suddenly became interesting for me to buy, because I found its original price just that little bit too much for what it actually is, namely an ancient monophonic synthesizer with some adjustments that make it usable in the 21st century (especially MIDI and the 14 memory locations).
But I was very interested in this synthesizer from the first day the 700FS was announced because it was so typical of the sound of the 70s and 80s. It was used by Human League, 'Being Boild' is almost exclusively a 700S and the Normal (Daniel Miller's first band) because 'Warm Leatherette' is also almost exclusively a 700S. But also eg by The Cure, the synthesizer line in 'A Forest' is also a 700S.
The 700S was also very popular in the softer genres, for example it was the favorite synth of the Japanese composer Kitaro, and... it was also the favorite synth of Vangelis! Before the Yamaha CS-80 was released in 1978, Vangelis mainly used a miniKORG 700S for all his experimental synthesizer sounds on his first 4 albums 'Heaven And Hell' (1975), Albedo 0.39' (1976), 'Spiral' (1977) and 'Beauborg ' (1978). This was mainly due to the fact that the 700S has 3 different ring modulators that allow you to make those typical metallic sounds that those first 4 albums are so famous for. By the way, it is said that all synthesizer sounds in the famous song 'Pulstar' were made with a miniKORG 700S...
I am therefore very happy that I was able to buy a miniKORG 700FS at a reasonable price, which has expanded the 'Vangelis sound palette' in my studio (especially to be able to quickly and easily make those typical and authentic ring modulator sounds) .
I am also very pleased with the build quality of the miniKORG 700FS as it is heavier and larger than you would expect at first glance. And its sound is very nice and warm, also particularly suitable for bass lines and solos (due to the joystick and aftertouch), the string reverb is also a nice addition to instantly travel to the 70s. But it's really that beautiful and easy to use ring modulator that gets all the credit and praise for me.
BTW, the miniKORG 700FS comes with a nice, retro transport case, which of course also had an influence on the initially very high purchase price. For me, this case was not necessarily necessary, but of course it fits nicely into the overall picture of an old synthesizer from the 1970s...
Copyright © 1995-2023 by Delta Music Belgium - Pro Tools | HDX Studio - Rummenweg 30 - 3800 Sint-Truiden - Belgium. All Rights Reserved
All product names, logos, and brands are property of their respective owners.
All company, product and service names used on this website are for identification purposes only.
Use of these names, logos, and brands does not imply endorsement.