Frequently Asked Questions
1. Which genres of music are welcome at Delta Music Belgium?
In principle, all genres are welcome, because in every genre there is good music to be found. But at the same time there is hardly anything less pleasant than doing a music production when you do not like the music. For that reason I always ask to hear the music in advance. This can be a live recording of a concert or a rudimental demo recording in the rehearsal room. These days almost every smart phone can record sound and such a recording is good enough to get an idea about the genre of music and the musical abilities. If I don't like the music (which is a personal taste), then I will say this in advance and I will refer the client to a colleague.
Of course I have my own musical preferences, I grew up in the 80s, so I like New Wave, Cold Wave and EBM very much (I still wear black clothes and I wear 8 silver rings). More recently I like trip hop and the more experimental or harder rock bands. I'm also a big fan of almost all music that is Belgian, almost the whole world knows that there is very good and innovative music that is being made over here.
In the field of classical music, I have a weakness for the French impressionism of Eric Satie, Claude Debussy, Maurice Ravel and Gabriel Fauré. I also find contemporary classical music very interesting, especially experimental and advantgardistic music.
And since my first experiences with music productions were the big theatrical musicals, I still have a weakness for that too.
But my biggest inspiration and personal all time favourite is without any doubt the Greek composer Evanghelos Odysseas Papathanassiou also known as Vangelis.
A list of my 30 most favourite artists and bands (next to Vangelis) would look something like this (alphabetical order):
AURORA (N)
Björk (IS)
Clannad (IRL)
David Bowie (UK)
Dead Can Dance (AUS)
Depeche Mode (UK)
dEUS (B)
Franky Goes to Hollywood (UK)
Front 242 (B)
Gary Numan (UK)

Jean-Michel Jarre (F)
Kate Bush (UK)
Kraftwerk (D)
Madonna (USA)
Massive Attack (UK)
Peter Gabriel (UK)
Pink Floyd (UK)
Portishead (UK)
Prince (USA)
Radiohead (UK)

Rammstein (D)
Sigur Rós (IS)
Simple Minds (UK)
Sinéad O'Connor (IRL)
Talk Talk (UK)
Tamino (B)
The Cure (UK)
The Doors (USA)
U2 (IRL)
Yazoo (UK)
As a summary, you could say that I have a strong preference for alternative and innovative music.
What I do not really appreciate are the following music genres:
the commercial EDM and the accompanying DJ culture that is out of all proportion
hip hop and rap, although there is still some interesting music there

Flemish and Dutch schlager and carnival music, although I am a big fan of the productions of Marco Borsato
everything that has to do with commercial advertising, so no advertising spots, unless it is for non-commercial purposes
everything that has a religious background, because by definition this does not fit into my world view
In any case, every piece of music that is sent to me I take into consideration
2. Which musical ensembles can be recorded?
The Recording Room has an area of​ 21 m², in here 4 people can comfortably make music together. The Roland V-Drums Room + Vocal Booth has an area of 10 m², here 1-3 voices can be recorded. The Pro Tools | HDX control room has an area of 33 m², of which approximately 3 m²  is free to post musicians, eg keyboards or electric guitar or bass through guitar amp simulation plug-ins in Pro Tool HD. Therefore, in theory, placing 9-10 musicians is feasible, but then the question is whether they should all be recorded simultaneously. Because in pop and rock music it is most common to record all instruments separately and then there is more than adequate place in just the Recording Room. For classical music, a quartet can be placed perfectly + of course there is the possibility to record additional soloists separately
3. Is it possible to record acoustic drums?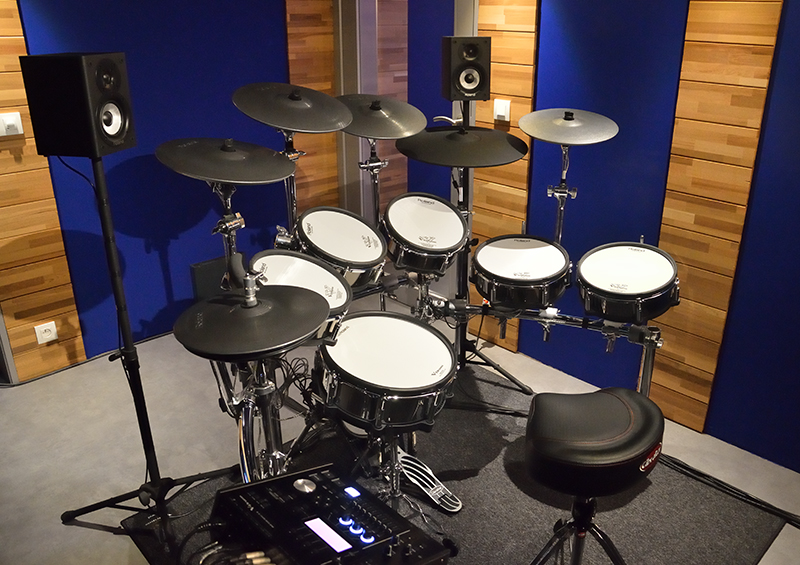 It is perfectly possible to place an acoustic drum kit in the Recording Room, in principle, but the answer is 'no', unless your acoustic drum kit would be of exceptional quality.
In the USA young people call an acoustic drum kit "grandpas drums" and this has a reason: a contemporary high-end electronic drum kit is not inferior to an acoustic drum kit at all, on the contrary, + it makes the recording process much easier.
To immediately follow this trend, Delta Music Belgium invested in a Roland TD-50KV electronic drum kit.
This drum kit is the top-of-the-line model from the legendary Roland V-Drums Pro Series and is praised for it's realistic playability and unmatched sound quality of the built-in drum sounds. And if that is not enough, it can also be used as a MIDI drum trigger for software drum samplers. It is possible to simultaneously record in Pro Tools | HDX the sound of one of the many drum kits in the TD-50KV through 10 separate outputs along with the electronic MIDI data generated by the Roland TD-50 drum module. This MIDI data can be assigned to Toontrack - SUPERIOR DRUMMER 3, the flagship of the software drum samplers with many more available drum kits.
Overall, in 95% of cases it is possible to play and record live the perfect drum track for your recordings. If necessary you can correct the recording afterwards, both in terms of performance errors and in terms of the choice of drum sounds. Do you want to know what this drum kit can do, please go to Youtube and perform a search for "Roland TD-50KV with Toontrack - SUPERIOR DRUMMER 3" and you will probably be amazed about what you will see and hear...
Btw, I also bought the Roland CM-220 CUBE Monitor - 2.1 Monitor System for Electronic Instruments. This is a 200 watt subwoofer and two 60 watt sattelite speakers, specially designed for the high dynamic range of electronic musical instruments. It presents a very realistic drum sound in the recording room including a correct stereo imaging. So it is not necessarily required to play the drums with headphones, now it can sound just as loud like a standard drum kit, or, if needed, much much louder .The speakers can also be used to give a bit more power when using headphones (for example just the subwoofer so you can feel the kick). For your information: all extra drum hardware is made by Gibraltar, including a Gibraltar 6611DB Avenger II double bassdrum pedal for heavier rock drumming.
FYI: of course it is also possible to work with audio and / or MIDI drum loops only and create the perfect drum track without touching any drum stick at all
More info about the Roland V-Drums can be found on the dedicated page
4. Can I order 1000 CD's?
Delta Music Belgium is no CD pressing plant, so you can't have 1000 CDs made. I can refer you to good CD pressing plants and advice you on how you can deal with this in the best possible manner. Delta Music Belgium is registered with SIMIM so I can create ISRC codes that are both needed for CD pressing as for iTunes
5. What is the name of the flower in the logo of Delta Music Belgium?
The flower in the logo of Delta Music Belgium is a wild harebell, the Latin name is Campanula rotundifolia. It is a very rare flower in Belgium and therefore protected as endangered plant species. The flower is 1 cm. large and very vulnerable.
The picture below I have taken myself on August 29, 2005 at Fort IV in Mortsel with a Nikon Coolpix 5600, this is the original photo that I've cut the harebell from:
6. How does Delta Music Belgium deal with your privacy?
After running a recording studio for 20 years I have experienced firsthand how imortant privacy is for the majority of my customers. Fans and the tabloid press are constantly on the prowl, it's all in the game, but also the gossip inside the music business is not to be underestimated. I must admit that in my early years I also let myself be drawn into such rumors, sometimes with serious consequences... People making mistakes is inherent to being human, you can only try to learn from it wherever possible.
For clarity, I have drawn up the following list of assurances that I give in the area of the protection of privacy and related topics.
Privacy in the studio
what happens in the studio is strictly private and is not to be shared with anyone
Photography and filming in the studio
I will never take photos or videos during studio sessions, unless otherwise agreed with the customer
customers are not allowed to take photos and videos in the studio, unless after written permission
photos and videos in which I can be seen are subject to the right to one's own image, only after written permission the customer can be allowed make these public under predetermined conditions
Privacy on the Internet and in the media
I will never put photos or videos online showing customers, unless in exceptional circumstances at the request of the customer
I will never publish any texts about customers, unless in exceptional circumstances at the request of the customer
orally, I will spread as less information about my customers as possible with much restraint, unless it concerns information that is freely and publicly available for everyone
Privacy and copyright
I follow all legal requirements in the field of copyright and will in no way give my cooperation to the evasion of copyrights, illegal splitting of copyrights or any other crime
in any way lyrics and music will be distributed without express permission from the author / composer
it is possible that I show Pro Tools sessions with recordings of customers to other customers or potential customers / visitors , but only for paeronal promotion and/or promoition of the studio and only within the closed environment of the studio
Digital privacy and security
all files are used and stored on computers and storage devices that are protected with passwords
the digital network within Delta Music Belgium (LAN and WLAN) is protected against external attacks (hacking) by an extensive firewall protection
in case of digital delivery of music files I only work with secure servers with 256-bit Advanced Encryption Standard (AES), the transmission between server and client is protected with 128-bit or higher Advanced Encryption Standard (AES)
Legally required privacy statement and cookie policy
Copyright © 1995-2023 by Delta Music Belgium - Pro Tools | HDX Studio - Rummenweg 30 - 3800 Sint-Truiden - Belgium. All Rights Reserved
All product names, logos, and brands are property of their respective owners.
All company, product and service names used on this website are for identification purposes only.
Use of these names, logos, and brands does not imply endorsement.