Roland V-Drums (TD-50KV)
---
Electronic drum kit
---
Roland - TD-50KV - V-Pro Series 'Prismatic Sound Modeling' V-Drums Electronic Drum Kit
The kit on the photo above is a standard Roland TD-50KV as seen on the Roland website, however I have expanded mine to it's maximum capacity with 3 extra V-Cymbal Crash cymbals, 2 extra V-Pad Toms and a Bar Trigger Pad.
This is my actual V-Drums configuration :

1 x TD-50 - 'Prismatic Sound Modeling' Drum sound module (software upgraded to TD-50X in 2021)
1 x V-Kick 14" Kick drum: KD-140-BC (black chrome)
1 x V-Pad 14" Digital Snare: PD-140DS (silver)
3 x V-Pad 10" Tom: PD-108-BC (black chrome)
2 x V-Pad 12" Tom: PD-128-BC (black chrome)
1 x V-Hi-Hat 14" Digital Hi-Hat: VH-14D (black)
5 x V-Cymbal 14" Crash Cymbal: CY-14C-MG (metallic gray)
1 x V-Cymbal Digital 18" Ride Cymbal: CY-18DR (black)
1 x BT-1 Bar Trigger Pad
1 x V-Drums Stand - MDS-25
1 x V-Drums Mat - TDM-20

I also use the following additional drum hardware:
Gibraltar Hardware - 6611DB Avenger II double bass drum pedal
Gibraltar Hardware - 5707 Hi-Hat pedal (G Class fast touch)
Gibraltar Hardware - 5706 Snare stand (Super Lock)
Gibraltar Hardware - 9608-2T 2-Tone Compact Saddle Seat Throne
This is a 2017 picture of my a V-Drums kit in the 'Roland V-Drums Room' with 4 crash cymbals, since 2020 there are 5):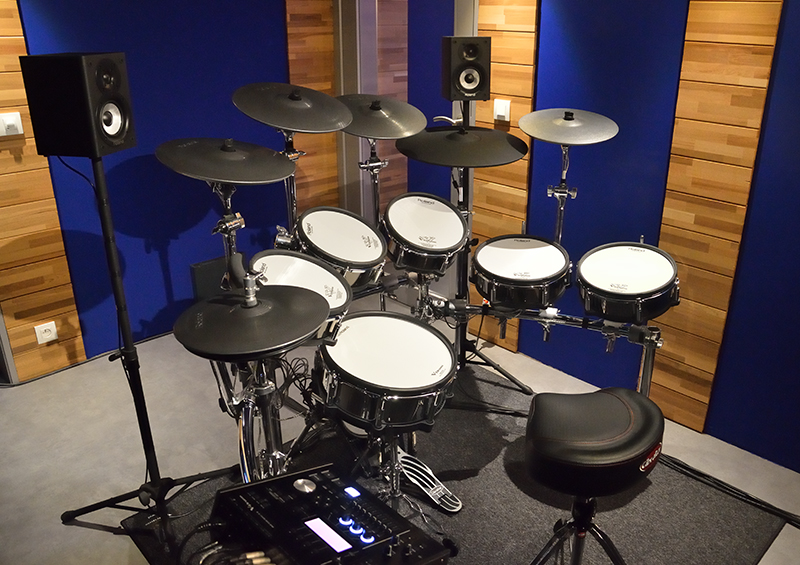 Actually, visually this is a hybrid between my original TD-30KV from 2013 with its metallic gray versions of the 13" hi-hat + 14" cymbals and a TD-50KV from 2017 with its black 18" digital ride cymbal (a TD-50KV has black cymbals) + its silver 14" digital snare drum (both kits come with black chrome toms). Technically this is 100% a full blown TD-50KV expanded to it's maximum capacity.
This drum kit is the top-of-the-line model from the legendary Roland V-Drums Pro Series and is praised for its realistic playability (especially with the addition of the 14" digital snare drum and 18" digital ride cymbal in 2017) and the unmatched sound quality of the built-in drum sounds generated by 'Prismatic Sound Modeling'. You can also load custom drum samples into the module and layer them with the internal sounds for truly unlimited sound possibilities.
The heart of the kit is the Roland TD-50 drum module, but it was upgraded to a TD-50X in 2021 through a software update, so the technical specifications listed are those of a TD-50X: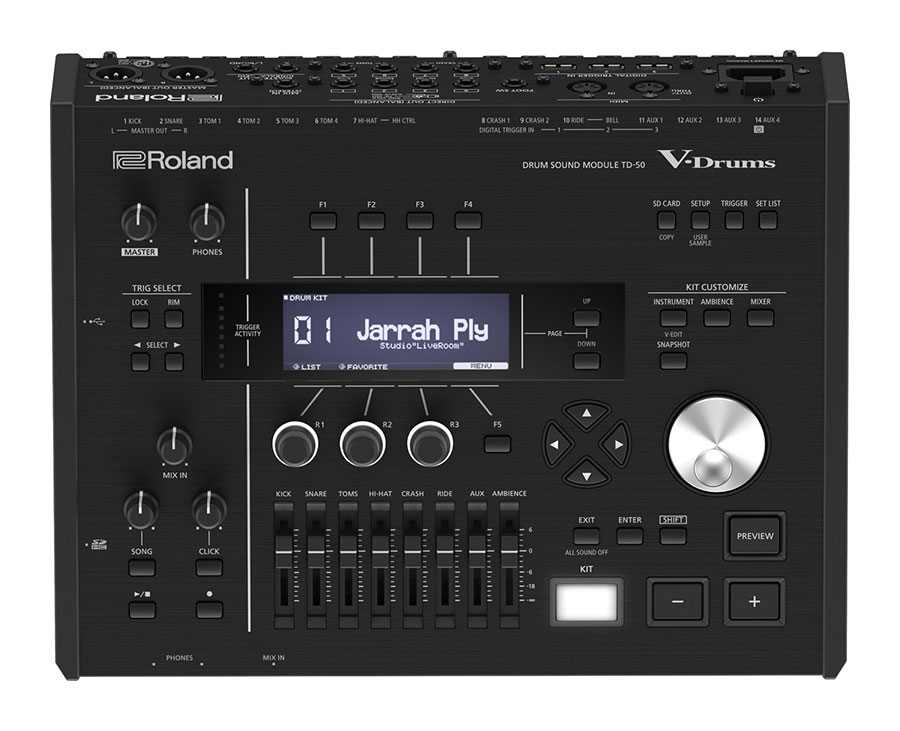 TD-50X is the flagship V-Drums sound module with Roland's Prismatic Sound Modeling and PureAcoustic Ambience technologies
over 900 premium sounds on board, including many new kick, snare, hi-hat, tom, and cymbal selections
three digital trigger inputs for connecting advanced Roland pads like the PD-140DS digital snare, CY-18DR digital ride, and VH-14D digital hi-hat
up to 14 TRS analog trigger inputs available for standard Roland V-Pads, V-Cymbals, and trigger pads
ready-to-play presets based on legendary and contemporary drum kit sounds, purposefully tuned for full, punchy, and dynamic sound
hands-on interface for quick selection and deep customization of drum sounds
massive selection of studio-grade effects, including EQs, compressors, reverbs, multi-effects, and more
stereo XLR master output and eight TRS direct outputs provide balanced connections to a PA mixer
integrated 32-channel USB audio/MIDI interface for professional computer music production
MIDI (IN, OUT/THRU) connectors
mix input for drumming with music from a smartphone or laptop
import your own WAV samples via an SD card, max 500 user samples (includes factory preloaded user samples), sound length (total): 24 minutes in mono, 12 minutes in stereo, file formats that can be loaded: WAV (44.1 kHz, 16/24 bits)
built-in practice functions for developing drumming skills
Due to the available MIDI interface, the drum kit can also be used as a MIDI trigger for software drum samplers. It is possible to simultaneously record in Pro Tools the sound of one of the many drum kits present in the TD-50 drum module through eight separate outputs along with the electronic MIDI data generated by the Roland TD-50 drum module. This MIDI data can be further assigned to software drum samplers. Or you can also play drums live while hearing the sounds from the software drum sampler and record it as MIDI data in Pro Tools or Logic Pro X.
As software drum sampler we use Toontrack - SUPERIOR DRUMMER 3, the flagship of software drum samplers:
Toontrack - SUPERIOR DRUMMER 3
+ all SDX Expansion libraries (1.5 TB)
SUPERIOR DRUMMER 3 SDX Expansion libraries:
Area 33 SDX
Custom & Vintage SDX
Death & Darkness SDX
Decades SDX
Fields Of Rock SDX
Hitmaker SDX
Indiependant SDX
Legacy of Rock SDX
Metal Machinery SDX
Music City USA SDX
New York Studios Collection SDX
Orchestral Percussion SDX
Roots - Brushes, Rods & Mallets SDX
Roots - Sticks SDX
Stockholm SDX
The Lost New York Studios SUPERIOR DRUMMER Sounds SDX
The Metal Foundry SDX
The Progressive Foundry SDX
The Rock Foundry SDX
The Rock Warehouse SDX
The Rooms of Hansa SDX

Overall, in 95% of cases it is possible to play and record live the perfect drum track for your recordings. If necessary you can correct the recording afterwards, both in terms of performance errors and in terms of the choice of drum sounds

There is also the Roland CM-220 CUBE Monitor - 2.1 Monitor System for Electronic Instruments. This is a 200 watt sub-woofer and two 60 watt satellite speakers, specially designed for the high dynamic range of electronic musical instruments. It presents a very realistic drum sound in the recording room including a correct stereo imaging. So it is not necessarily required to play the drums with headphones, now it can sound just as loud like a standard drum kit, or, if needed, much much louder .The speakers can also be used to give a bit more power when using headphones (for example just the sub-woofer so you can feel the kick).
Other equipment lists
---
Copyright © 1995-2023 by Delta Music Belgium - Pro Tools | HDX Studio - Rummenweg 30 - 3800 Sint-Truiden - Belgium. All Rights Reserved
All product names, logos, and brands are property of their respective owners.
All company, product and service names used on this website are for identification purposes only.
Use of these names, logos, and brands does not imply endorsement.